BarcodeOCR
BarcodeOCR supports more than 1,000 customers worldwide in processing all types of scanned documents and automates time-consuming work. With an intuitive and easy-to-use wizard, it's pretty easy to customize BarcodeOCR to your needs.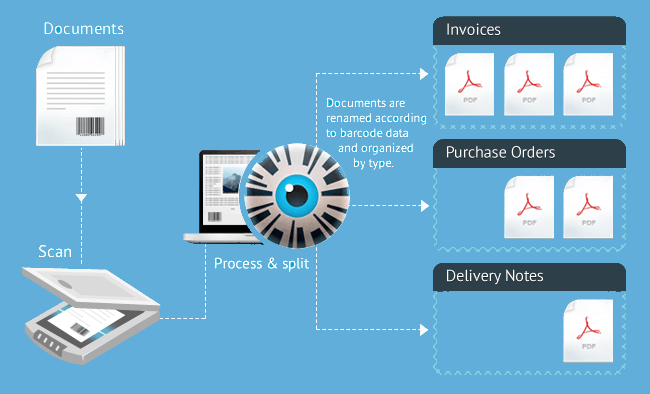 Automatic document processing
Receipts, questionnaires, invoices or general receipts should be separated without much work and assigned to customers or processes.
Without BarcodeOCR, these documents are laboriously separated after scanning, renamed and moved to the correct location. Errors occur quickly and the stored documents are assigned to the wrong client.
BarcodeOCR takes over from the scanning and processes your receipts automatically. In order to enable error-free processing, our software relies on the recognition of barcodes. Barcodes are the fastest and most reliable way for machine reading.

IN THE BACKGROUND
BarcodeOCR runs in the background and starts processing automatically when the scanner saves the file.

BARCODE RECOGNITION
The most common 19 barcode types are supported.

FILTERING BARCODES
Powerful filters ensure that only your barcodes are used. Third party barcodes are ignored.

SORT BY TYPE
Documents can be sorted by type into subfolders.

FULL TEXT RECOGNITION
Your documents can be made searchable. You can then search for words within the documents.

DIGITAL SIGNATURES
Protect the documents from changes.
Time for the important tasks
BarcodeOCR takes over the processing of the scanned files after scanning without user interaction.
Your scan is automatically separated by barcodes and renamed according to your needs. In addition, the pages can be made searchable, saved for long-term archiving, digitally signed and much more.
BarcodeOCR supports different sorting options and scripting support for complete customization.
Multiple configurations can be created simultaneously and options (Split, Rename, Text Recognition, Optimizations) can be turned on and off per configuration.
Thus you can adapt BarcodeOCR exactly to your requirements.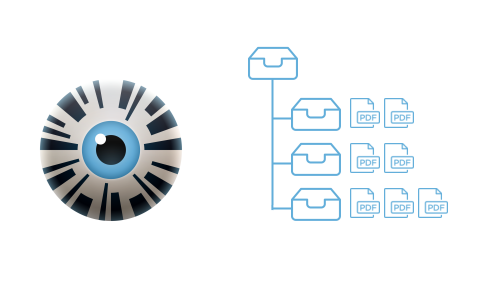 Previously, when archiving incoming invoices, several documents were either individually scanned and renamed or manually separated as batch scans using PDF Writer and then renamed every day. Your software enables us to automatically separate, name and store invoices despite batch scans. This will probably save us 60-70 % of our working time. …We are very satisfied with your tool and your support.

BLANK PAGE RECOGNITION
Automatically remove scanned blank pages.

NETWORK FOLDERS
Monitor network drives for new files.

NO LIMIT
No limitation of pages, users or scanners.

ENCRYPTION
PDF files can be saved password protected. These are compatible with mobile devices and PDF viewers.
COMPLEX POST-PROCESSING
Customize BarcodeOCR 100% to your workflow and use powerful PowerShell interfaces.

SIMPLE LICENSING
Buy once – maintenance is optional.
Or rent monthly.
Try BarcodeOCR
Try BarcodeOCR free of charge and without watermarks for up to 45 days in your environment.
You have problems with the setup after the download? Our friendly support team will be happy to assist you! Just send us an e-mail to our support address, chat us with your question or book an appointment for a remote session!
Where do I get barcodes?
For example, you can use a label printer to print your own labels. Alternatively, various manufacturers offer labels on DIN A4 sheets for printing.
You want to use BarcodeOCR only for separation and optimization and the renaming is not important? Use the same barcode for all your documents! Many customers also use a QR code stamp for this.
What does BarcodeOCR cost?
We offer BarcodeOCR as a purchase license and as a rental license in different editions. For a simple separation of the document stack even the smallest edition is sufficient. Under "Buy" and "Rent" we compare the editions and give an overview of the functions. You are also welcome to contact us.
Can I try BarcodeOCR?
Yes, we offer a 30-day trial version and will be happy to help you set up or troubleshoot anything that doesn't work the way it should.
In our documentation you will also find an illustrated step-by-step guide to setup and use.
I have questions or need help!
We are happy to help you if you have any questions about our product, or if you need help configuring a work instruction. Chat to us, send us an e-mail or simply call us during our telephone hours. (Contact options)
What do I need for the start?
After downloading the demo you need administrator rights for installation and configuration on your computer or server. BarcodeOCR runs on all current Microsoft operating systems. Here we provide instructions for installation and configuration.
My barcode is not recognized!
The configuration wizard is deliberately designed to be simple and tries to create a common configuration that works perfectly for most customers. In rare cases, however, your scanner may create a file that requires compatibility options. BarcodeOCR has some graphics filters and options to improve detection in these cases.
The easiest option for you: Export your settings, attach a non-confidential test document, and email these files to our support address. This is the fastest way for us to analyze the problem and recommend an optimal configuration for you. Please also make sure that there is no personal data in the examples.